Description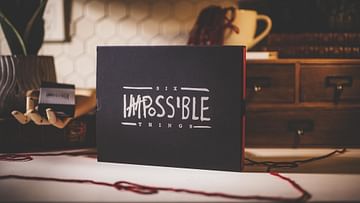 An extraordinary behind-the-scenes look at Joshua Jay's Six Impossible Things. For the first time ever, you can enjoy the smash-hit show and then get unprecedented access to Josh's creative process.
The Six Impossible Things Deluxe Set is a stunning, limited edition collectors' box set that is signed and numbered by Josh. Only 600 were ever produced and they include:
Download and stream of the show
Explanations, interviews, and venue tours
Six Impossible Things hardback program book
Deck of limited edition Six Impossible Things Playing Cards that feature artwork from the show and are deceptively marked
Special "IMPOSSIBLE" lapel pin (that can be used as a reveal)
Josh's motivation card he reads before every show
Pocket square
Poster
Access to future special live events
Beyond being a tremendous collectable, the Six Impossible Things Deluxe Set is an unbeatable value for magicians. You'll get to enjoy the incredible show and then learn the secrets as Josh details some of his most prized effects.
The included explanations go way beyond the basic secrets. This is a masterclass in building, evolving, and performing your own unique show. Josh will teach and inspire you to transform a simple collection of tricks into a truly memorable experience that tells a story and is filled with meaning, This includes a ton of incredible and practical advice covering:
Lighting
Sound
Set design
Trick creation
Keeping a show fresh
And more!
Every magician can benefit from joining Josh on this unforgettable journey, yet only a very limited number of lucky people will ever have the chance to own one of these signed and numbered sets. Only 600 of these first-edition Six Impossible Things Deluxe Sets were ever produced and they are expected to sell quickly. They will never be available again.
About Six Impossible Things
Six Impossible Things was a truly immersive magic experience. It was designed from the ground up to help audiences understand what magic can "feel" like. Instead of sitting in a theater and watching him on a stage, guests were guided through a surreal journey that redefined the possibilities of close-up magic and parlor magic.
This acclaimed show sold out more than 240 shows during its 18-month run. Only 20 people were allowed per night and, once you saw the show, you were never allowed to see it again. Until now…
The Six Impossible Things Deluxe Set includes both a streaming and downloadable version of the show.
This is a Netflix-quality production that was carefully shot to make you feel as if you were right there in the space. It's a captivating and inspiring adventure that will make you rethink how you approach your magic.